Get safety & consistency
with
real-time monitoring

and


automatic updates

for npm dependencies
Join thousands of others who let our friendly bot handle their dependency chores
Automatic, real time dependency updates
Runs your tests and alerts you when updates break your code
Out-of-the-box support for scoped packages
Private packages and registry support via webhooks
Lockfile support, including shrinkwrap, npm5 and yarn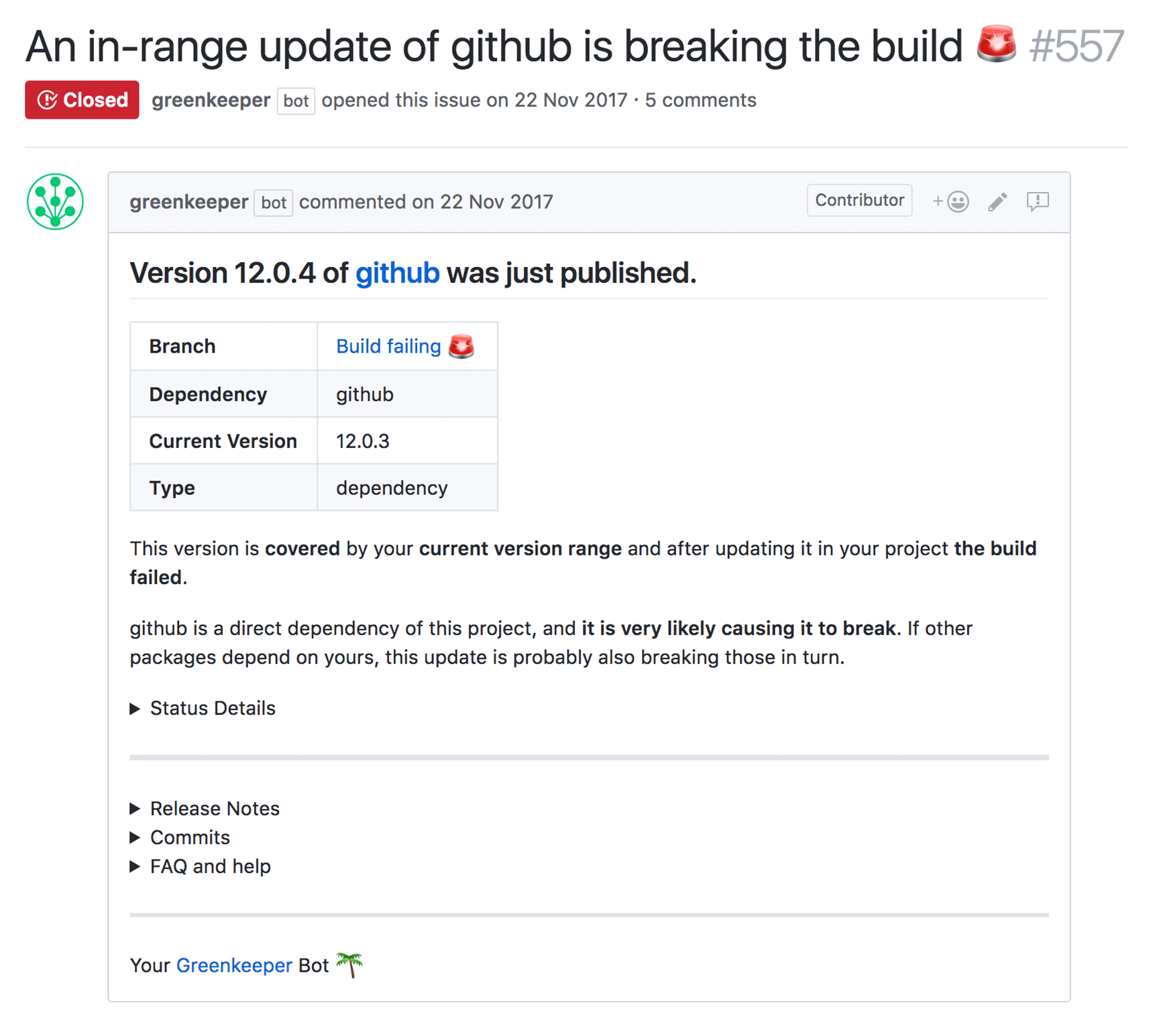 Trusted by Thousands of Projects and Companies
We're sure you've heard of some of them:
Use SemVer. We'll have your back.
The npm ecosystem with around half a million modules is a great foundation to build your software on, and Greenkeeper makes it more reliable. You'll spend less time with dull chores, and more time with the fun parts of software development.
Greenkeeper is a friendly bot that tells you when updates to your dependencies break your software. It automatically detects the latest working version and you can then choose to either immediately fix the issue or just pin the dependency so you can get back to it once you have the time. Either way: no more broken software.
Automated dependency management
You could manually track updates of your dependencies and test whether things still work. This takes a lot of time however and it's rarely ever done. So most of the time, your software is in a Schrödinger state of being potentially broken, and you have no idea until you (or your users) run npm install and try it out.
Greenkeeper takes away these chores of dependency management: For each update to any of your dependencies, our bot immediately runs npm install and npm test. There is no more doubt about the state of your software, you'll always know when it breaks.
How it works
Greenkeeper sits between npm and GitHub, observing all of the modules you depend on. When they get updated, your project gets a new branch with that update. Your CI tests kick in, and we watch them to see whether they pass.
Based on the test results and your current version definitions we will open up clear, actionable pull requests or issues for you. If there's nothing for you to do, we won't nag you.
Let the friendly Greenkeeper bot take all the dull work of keeping your dependencies up to date off your shoulders and, optimally, boil it all down to a few clicks. This is as close to fully automatic as we could possibly make it.
Why it's so neat
Staying on top of dependency updates is a lot of cognitive overhead: your code depends on modules that depend on modules. It's modules all the way down. Stuff gets updated all the time. It'll either annoy you, or you'll miss it. Greenkeeper never misses updates, and it never gets annoyed.
Pin versions with one click: You've got stuff to do, we understand. Sometimes you simply have to make a pragmatic trade-off between fixing your build for the breaking update or just pinning the working version so you can get back to it later. Our bot can respect that.
You could do all the updates and testing by hand, all the time. But that's dull, repetitive work, which is why, let's be honest, barely anyone actually does it. But Greenkeeper will do it, day or night, without complaining, while requiring as little of your attention as possible.